Do you have a vocation to Carmel? Contact our Vocation Director today to learn more about a Carmelite Vocation. We can help you discern your calling to Religious Life. We offer vocation retreats for those serious about a Carmelite vocation.


Contact the Vocations Director Here
The formation process is the longest engagement possible, you might say. We do not expect our candidates to be saints from day one, nor for them to be at the point of professing perpetual vows. Rather, we retain the wisdom of the monastic tradition in maintaining at a minimum a six-year period of discernment and formation, during which the candidate can leave of his free will at any time. Not every one who enters the monastery will profess perpetual vows, but each man will have ample opportunity to discern his own vocation as a gift from God and to ultimately profess his vows to the Lord for life after years of mature deliberation, formation, and evaluation.
Preliminary Discernment
Once a candidate has made initial contact and reviewed this website, the candidate is encouraged to complete the initial questionnaire in preparation for a Discernment Retreat. If the Superiors believe that there is sufficient possibility of a vocation, they invite him to make a retreat of at least five days at the monastery. During his retreat, he is gradually introduced to the Carmelite life and encouraged to participate as fully as possible. If at the end of the retreat the applicant remains convinced of his calling and wishes to take the next step, and if the Superiors, with the assistance of the grace of God, validate his discernment, then together they decide when he should enter the monastery as a postulant.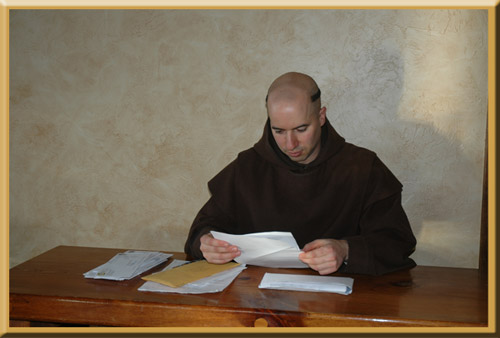 Postulancy
A candidate upon entrance lives for the first five to eight days as an observer in the enclosure. After this observership inside the enclosure, the candidate then becomes a postulant and is clothed in the robes of a postulant. During this period, it is discerned whether the postulant should proceed to the state of novice where he becomes a member of the community. Postulancy provides the young man with an opportunity to deepen his understanding of the Carmelite way of life and to bond with his spiritual fathers and brothers in the fraternal life.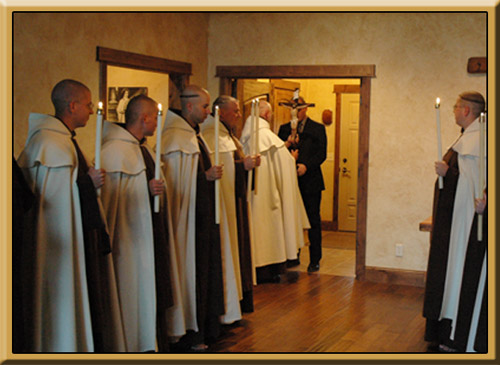 Novitiate
After the year of postulancy is completed, the candidate is clothed as a novice of our Order, receives his new name in religion, and thus begins his two years of novitiate. During the novitiate, the novice is trained in living the evangelical counsels, the Carmelite Rule, the Constitutions, and our Carmelite spirituality. The two year novitiate provides the novice with an opportunity grow into his monastic vocation as a Carmelite and to embrace the fullness of the tradition, spirituality, and manner of living proper to our monastic community.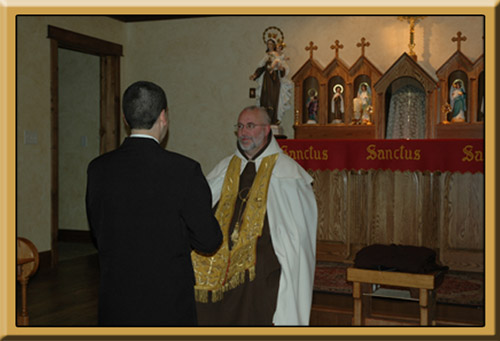 Temporarily Professed
| | | |
| --- | --- | --- |
| If he remains firm in the conviction of his calling, the novice professes for three years temporary vows of obedience, chastity, and poverty. He then replaces the short scapular of a novice with the long wool scapular of a professed religious of Mount Carmel. Over the next three years the temporary professed is further purified and tested in the vows and virtues required therein. This is a time when the religious is further confirmed in his vocation and begins to live the fullness of the religious life through his vows. He slowly assumes more responsibility within the community and this further refines his virtue and strengthens his manly character. | | |
Perpetually Professed
| | | |
| --- | --- | --- |
| After a total of six years and by the grace of God and the prayers of the brothers, the monk makes the final step of professing the vows "usque ad mortem,"(until death) confirming him completely in the service of God and the Church. Perpetual profession allows the monk to make a complete gift of himself to our Lord Jesus Christ in the living of the Holy Vows of obedience, chastity, and poverty until the Lord shall summon him from this life to the beatitude of heaven. | | |