The choir monk is at once both religious and priest, uniting in himself the white martyrdom of the holy vows with a share in the sacrificial priesthood of Jesus Christ the Eternal High Priest.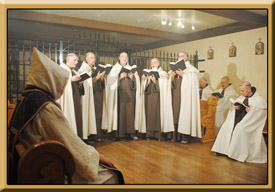 By the choir monk's consecration to the Lord through perpetual profession and holy orders, there is wed together in one life a double victimhood of loving sacrifice. This vocation configures the choir monk more perfectly to the Lord as Paschal Lamb, uniting the sacrifice of his monastic life to the very Sacrifice of the Altar, and thus opening up a treasury of grace for the entire world. Moreover, the monastic priesthood offers a powerful witness to the Church and to the world that to follow Christ as his priest is to be a victim of love for the salvation of one's spiritual sons and daughters.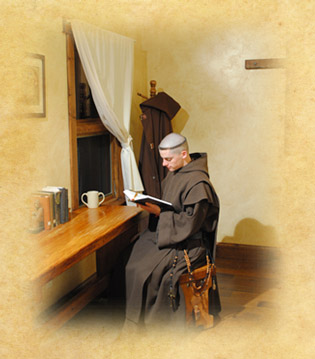 The Carmelite fathers are rightly called choir monks, for indeed the whole of their monastic lives are devoted to the Holy Sacrifice of the Mass and the chanting of the Divine Office in the choir. Next to the Holy Sacrifice of the Mass, the Divine Office is the primary way in which monks engage in the worship of God.
Prompted by the urgings of Holy Mother Church, the choir monks are permitted to share the fruits of their contemplative and solitary lives, by engaging in those priestly ministries that can be undertaken from within the enclosure and are in accord with the Carmelite tradition. Hence, they are permitted to hear confessions, conduct retreats, teach courses, and give spiritual direction to all who may come to the monastery.