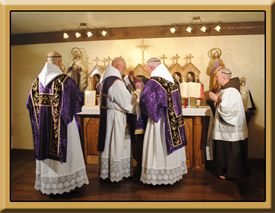 The august sacrifice of the altar is, as it were, the supreme instrument whereby the merits won by the divine Redeemer upon the cross are distributed to the faithful: "as often as this commemorative sacrifice is offered, there is wrought the work of our Redemption." (Mediator Dei)
Following the example of the first hermits on Mount Carmel, the Carmelite monks gather each morning for a Conventual Mass, sung in Gregorian chant whenever possible. The fraternal life finds its noblest expression in the Sacred Liturgy, where the Carmelite monks are united in the worship of God.
Through the common liturgical observance of the Carmelite Rite, the unity of the community as one family in Carmel is clearly manifested.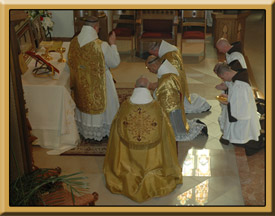 In the Holy Sacrifice of the Mass the fathers and brothers find themselves profoundly united through the reception of Holy Communion, where they are made one in Christ. In a very unique way, when the monk engages in the ascending and descending mediation of Christ in the Liturgy, he mediates grace to souls throughout the entire world and in this manner continues the mystical apostolate of our Lady.
The Mass is the sacrifice of thanksgiving par excellence, the one which allows us to unite our own thanksgiving to that of the Savior, the Eternal Son of the Father…In the Mass, we want to belong only to Christ and we take up with gratitude—with thanksgiving—the cry of the psalmist: "How shall I repay the Lord for his goodness to me?" (Psalms 116:12). Yes, how can I give thanks to the Lord for the life he has given me?
The answer to the psalmist's question is found in the psalm itself, since the word of God responds graciously to its own questions. How else could we render thanks to the Lord for all his goodness to us if not by attending to his own words: "I will raise the cup of salvation, I will call on the name of the Lord" (Psalms 116:13) (Pope Benedict XVI).