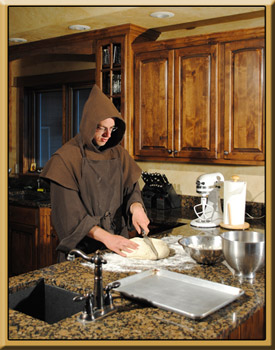 At appointed times, the monks apply themselves to the work of providing for the needs of the monastery, in order that, in union with our Blessed Lord, the son of a carpenter, they may glorify God the Father by uniting their work to His work of redemption.
Looking to the prior to render his obedience, each monk's work is assigned. In the coffee workshop the roaster is started, the bags of green beans opened, and delicious coffee roasted to pure perfection. Back at the monastery, the phone begins to ring and the bell at the gate beckons. One woman has a prayer intention that the Lord bless her with health and for a dieing friend. A neighbor comes to the gate with fresh rhubarb, asparagus and eggs. A priest writes asking for the monks' prayers for his confirmation class and a newly married couple. And so the periods of work pass, as the monks labor for their keep.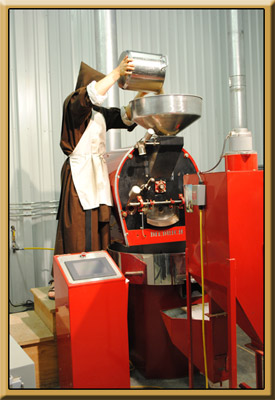 Each monk has his role to support the monastery's growth and its future in Wyoming, but none of the work can stir the monk's innermost peace and joy where God dwells. Even while busy at work, the monk remains in the Lord's Presence, renewing his love and his zeal for the Lord who has called him to be occupied in praising Him.