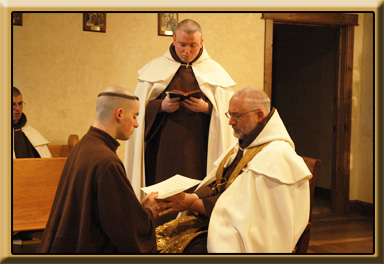 In keeping with the Carmelite tradition, the Carmelite monks profess the evangelical counsels by making vows of obedience, chastity, and poverty to God and to the Blessed Virgin Mary of Mount Carmel in the hands of the Prior. Like the monks of the desert and the first hermits on Mount Carmel, the Monks of the Most Blessed Virgin Mary of Mount Carmel have been driven by the ardor of the Holy Spirit to sacrifice their lives for the love of Christ and his Church.
Through this silent martyrdom of love, the monks are neither forgotten by nor detached from the mystical body of Christ, but rather they make up its heart: they multiply its spiritual wealth and render its prayer sublime; they help sustain its charity; they participate in its suffering, its fatigue, its apostolate, its hopes; they are called to increase its merits.
By the very nature of living the vows with perfection, the whole of one's life becomes a constant act of worship and a complete holocaust of love for the salvation of souls.